We'll give you roadside assistance to help you get home
Sometimes you get stuck on the side of the road for something minor. In these cases, you don't necessarily need a tow truck to pick up your vehicle and drag it to a shop. Maybe you have a flat tire and forgot a spare (or don't know how to change it!). Perhaps you ran out of gas and couldn't quite make it that extra half mile like you thought. Or maybe your battery died, and no one will stop for you. Don't sweat it! B&D Towing will give you roadside assistance in Martinez CA so you can get back on the road again.
Just a little stuck? We'll pull you out
Get stuck off the road? Having trouble getting enough traction in mud or on icy surfaces? If you don't need a lift but a little push for car recovery, give us a call, and we'll come and give you a hand. Some companies will charge you for towing services even for quick help like this. Not us. We're always reasonable and make sure that when you accidentally lock yourself out of your running car, the highest cost is to your pride.
Call (925) 326-6788 to contact us for a speedy roadside rescue!
Choose us for roadside recovery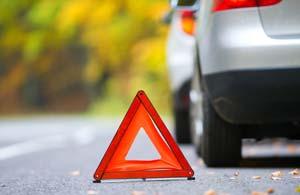 If you're stuck and need a boost to get back on the road, we're your best roadside assistance company in Martinez, CA. We have several advantages that let us pull ahead of the competition.
We have a large fleet of vehicles at our disposal. This means we can quickly get a tow truck to you if you have a car breakdown.
Our vehicles are available for 24-hour roadside assistance. We won't make you wait until 9 AM because our business hours are 24/7.
If for some reason, we can't get you back on your wheels, we'll tow the vehicle for you to the service station of your choice.
If you're stuck, don't wait for your friends or family to bail you out, call us, and we'll arrive with equipment for any situation!