Get To Know B&D Towing
B&D Towing
has been serving Concord and Contra Costa County
since 1984.
We operate a modern fleet of 14 tow trucks able to roll anywhere within a short period. Our experienced towing professionals solve a multitude of situations that get people, and their vehicles stuck on the road, from accidents to breakdowns, we make your safety our priority. That means we get to you quickly, 24/7, and show up well prepared with the right equipment and the expertise to use it.
Whether you need roadside assistance, your vehicle is not drivable to get to a repair shop, emergency towing, or someone is parked on your property illegally, we have the solution to help you. We work hard to make your experience with us a pleasant one in what is often an inconvenient time. With our many years of experience serving the Bay Area, we are equipped to cope with just about any situation.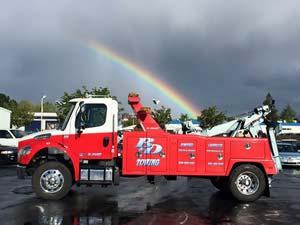 Superior Service and Towing in Concord
Our hand-picked professionals are as courteous as they are knowledgeable about safe, effective towing. They are certified with the California Tow Truck Association from Level 1 to Level 6. All our employees adhere to our drug- and alcohol-free policy. You will know you are working with one of our towing professionals as they will arrive clean and in uniform.
We are licensed, insured, and our drivers have the training to handle the job that has been dispatched to them.
Don't wait on other towing companies, call us for towing in Concord and get help, fast!
B&D Towing
Frequently Asked Questions About Towing
Can a towing company unlock my car if I accidentally lock my keys inside?
Yes, we provide lockout assistance and can help unlock your vehicle if you've locked your keys inside.
How much does it cost to tow a vehicle?
The cost of towing a vehicle varies depending on several factors, such as the distance to be covered, the weight and size of the vehicle, and the type of towing equipment required.
What do I do if my car breaks down on the road?
If your car breaks down on the road, pull over to a safe location, turn on your hazard lights, and call a professional towing service for assistance, Do not attempt to tow your vehicle yourself, as it can be dangerous and cause further damage to your car. We offer 24/7 Towing Services. Contact us for all your towing needs.
Take a Look at our Gallery page.
B&D Towing Is Proud To Be A Locally-Owned Business In Concord
When you're in need of reliable towing services in Concord, CA, look no further than B&D Towing, your trusted, locally-owned towing company. With deep roots in the community, we understand the unique needs of our Concord neighbors.
Located in the heart of Concord, our team at B&D Towing is committed to providing fast and professional towing solutions whenever you require them. But we're not just about towing; we're about helping you get back to enjoying the local attractions that make Concord special.
If you're an outdoor enthusiast, our services are perfectly aligned with the serene Markham Nature Area. Whether you're exploring its scenic trails or picnicking by the creek, B&D Towing is here to ensure your outdoor adventures go smoothly.
Families love spending time at Newhall Community Park, and we're here to lend a hand if your car ever faces unexpected troubles. You can relax and enjoy the playgrounds, sports facilities, and events, knowing that B&D Towing is ready to assist you in case of any roadside emergencies.
For those seeking spiritual solace, the Shiva Murugan Temple is a cherished local attraction. B&D Towing understands the significance of this spiritual center and is dedicated to helping visitors and devotees with reliable towing services.
At B&D Towing, we take pride in not only being your go-to towing service but also in contributing to the vibrant community of Concord. We're here to ensure you can explore the beauty of Markham Nature Area, enjoy the amenities at Newhall Community Park, and find peace at the Shiva Murugan Temple without worrying about any vehicle mishaps.
Choose B&D Towing, your Concord neighbor, for all your towing needs. We're here to keep you moving forward so you can experience the best of Concord's local attractions hassle-free.
Direction to B&D Towing
Your Search For An Experienced Towing Service Near Me Is Over
B&D Towing, a locally-owned towing company in Concord, CA, is your dependable partner for all your towing and roadside assistance needs. Our commitment to serving our community extends to providing a wide range of services, including Emergency Towing, Roadside Assistance, and Fleet Towing.
Concord is a bustling city with a well-connected public transportation system, and B&D Towing understands the importance of supporting commuters and local businesses. That's why our services are strategically positioned to cater to the needs of travelers at key bus stops and transit hubs.
For those relying on Central Contra Costa Transit, you can rest easy knowing that B&D Towing is just a call away if you ever need assistance on your journey. We're dedicated to getting you back on the road promptly, ensuring your commute is smooth and stress-free.
Erg Transit Systems USA Inc. is another vital part of Concord's transportation network, and B&D Towing is ready to provide timely and efficient towing and roadside aid if you find yourself in a bind while traveling with Erg Transit Systems.
Commuters using the Concord BART Station Drop Off Point can rely on us for emergency towing and roadside assistance. We understand that schedules can be tight, and our swift response ensures you can stay on track with your plans, no matter the situation.
At B&D Towing, our goal is to keep Concord moving, whether you're a local resident, a visitor, or a business owner. With our comprehensive services and strategic location near these essential bus stops and transit points, we are your trusted partner in ensuring that your journey in Concord is always smooth and worry-free. Choose B&D Towing for prompt and professional assistance whenever you need it.
Transit Directions B&D Towing
Our Team Is Proud To Work In Many Neighborhoods Throughout Concord, CA Including:
94520 94529 94522 94524 94527 94519 94518 94523 94521 94565 94597 94553 94598 94596 94510 94569 94549 94595
Check Out Some Of The Reviews From Our Happy Customers
"I had to get towed from the concord Chevy dealership to home in a emergency situation and from the dispatcher to the driver one of the most professional team ever. The price was fair and the driver was a super amazing person. Thank you B&D you made a awful experience way better."-Foam W.
Read More Reviews
"My Tesla model 3 needed a tow. B & D sent out Roy with a flatbed which the Teslas need. Roy was super professional and helpful. He knew exactly what to do. He brought it to my house and backed it into my driveway perfectly. Roy was great and he got to me within about 15 mins of calling. I'd highly recommend B & D towing."-Aaron L.
Read More Reviews
"My car had broken down on the side of the freeway and after calling many towing companies, B&D towing was the only one that was able to help me. The driver came in a very timely manner, he was very quick, efficient, and personable. Service was very professional, quick, and easy. Definitely recommend."-Edgar S.
Read More Reviews Here
At B&D Towing, We Offer A Wide Range Of Services, Including:
Roadside Assistance
Emergency Towing
Fleet Tow
Commercial Tow
Private Property Towing
About Concord CA
Nestled in the heart of the San Francisco Bay Area, Concord, California, is a city that seamlessly blends suburban charm with urban vitality. With a rich history dating back to the 19th century, Concord has evolved into a diverse and thriving community that offers something for everyone.
One of Concord's standout features is its commitment to green spaces and outdoor recreation. The city boasts an array of parks, including the sprawling Newhall Community Park and the serene Markham Nature Area. These natural gems provide a picturesque backdrop for picnics, hikes, and family outings.
For those seeking cultural enrichment, Concord offers the vibrant Todos Santos Plaza, a hub for events, concerts, and festivals. This lively gathering place exemplifies the city's dedication to fostering a strong sense of community.
Concord is not only a great place to live but also a thriving business hub. Its strategic location, with easy access to major highways and the Concord BART station, makes it a prime spot for commerce. The city's dedication to supporting local businesses is evident in the thriving downtown district, where you can explore boutique shops and savor diverse culinary experiences.
Concord's commitment to education is reflected in its top-rated schools and the presence of Diablo Valley College. Families value the city's focus on providing quality education for their children.
With its diverse population, excellent amenities, and a strong sense of community, Concord, California, stands as a testament to the best that the Bay Area has to offer. Whether you're looking for outdoor adventures, cultural experiences, or a welcoming place to call home, Concord has it all. Come and discover the unique blend of history, nature, and modern living that makes Concord a true gem of Northern California.
Direction to B&D Towing