Emergency Towing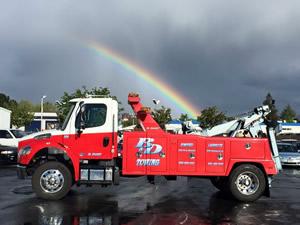 If you have been in an accident or your vehicle has broken down, you need help fast! B&D Towing offers 24/7 emergency towing in Concord and the Greater Contra Costa County area. Our fleet of professional towing vehicles covers a wide area, so we are generally never very far from where you need us. Our 24-hour dispatch relays all the pertinent information to the tow truck nearest you, and gets a certified towing professional on the way, fast!
We offer emergency towing for everyday cars and trucks as well as commercial vehicles, fleet vans, RVs, and fifth-wheels. Whatever your reason for needing 24-hour towing, our experienced professionals have the know-how to get you and your car out of the area where you are stuck. Just tell us where you want the vehicle taken, and we will get you and your vehicle there quickly and safely.
---
Call for 24-hour emergency towing from a trusted name and get an experienced professional on the way right now!
---
24-Hour Towing Services Includes:
Motorcycles
Cars
Trucks
Medium Duty Trucks
Recreational Vehicles
Fifth-Wheels

Multi-Vehicle Loads

Equipment

Tool Boxes

A wide variety of other cargo
Get Experienced Emergency Towing in Concord
As a locally-owned company offering emergency towing in Concord since 1984, we have earned our reputation as a trusted name. All of our towing professionals are certified and specially selected for their experience, careful yet efficient towing ability, as well as their customer service skills. We understand that when we show up, the person we are helping is often dealing with a stressful situation. We care about treating you with respect and offering open, honest communication. We care about you just as much as we care about gently towing your vehicle safely to your destination of choice.
Needing to be towed is never fun, but when it happens, you have a quick, reliable friend in the neighborhood on the way the second you call! Don't forget; we also offer roadside assistance to get you back up and moving.