Need immediate emergency towing in Walnut Creek?
If you have an emergency and can't get yourself or your vehicle home, what do you do? Towing is always an option, but what if you're in a hard to reach area? Or what if it's in the middle of the night? Some towing companies won't bother with difficult or inconvenient jobs. At B&D Towing, we're different. We're available for emergency towing in Walnut Creek no matter where you are or what time you need us. It's just one of the many ways we go the extra mile for our customers! When you need towing in Walnut Creek, call B&D Towing today!
Beware of uncertified drivers! Some tow truck operators don't take the time to learn the latest techniques and best practices. Our CTTA certification proves our dedication to quality towing and service.
What vehicles can you handle?
With a large fleet of vehicles, we're ready to handle any residential or commercial vehicle that needs towing. Some of the many vehicles we've towed include:
Scooters
Motorcycles
Snowmobiles
ATVs
Coupes
Sedans
Light trucks
Heavy-duty pickups
Fifth wheels and RVs
Semi Trucks
Trailer Cargo
And much more!
Besides emergency towing, we're available for jump starts, flat tires, and other kinds of roadside assistance in the Walnut Creek area too!
Our 24-hour tow truck service takes you where you need to be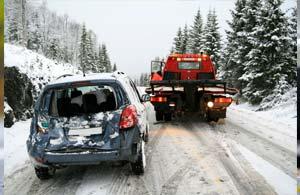 If your car has been in an accident and won't start up, it probably won't do you much good to tow it home so it can sit in your driveway. While that's certainly an option, many people prefer to get started on repairs right away. We're more than happy to take you to the mechanic of your choice. But what if you're unfamiliar with the area? Working in the area as tow truck operators for over 30 years, we know several honest auto repair shops with the after-hours drop-off. We'll recommend some options for you and let you make the final decision. That way, you can get your car up and running again and no time and get back on the road!
---
Choose us for emergency towing in Walnut Creek
With fast response times, anytime pick-ups, and friendly service, we're the best value around!